Charmkey Pom Pom Fishnet Yarn
Sku:CK394
Product description:

Brand:Charmkey
Blend:68%Acrylic, 32%Nylon
Length:12m
Ball weight:50g
Needle Size:4.5-6.0mm
Books and Patterns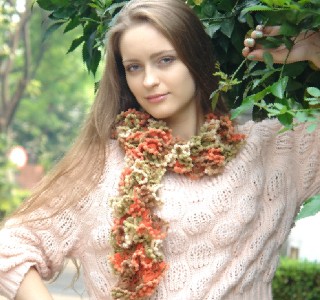 Charmkey Pom pom fishnet yarn is one kind of developed fishnet yarn.It has two different composition: acrylic nylon mix and 100% polyester. All are very beautiful for knitting a creative scarf.It owns many different solid colors and colorful mix colors. With pom pom makes it look very new and unique.It can be easy to make scarf and quick to learn even children and grandma. You will need two balls of yarn to make a standard scarf, three balls for a longer scarf. It will be a very warm gift for you to share with friends and your family. If you like we would attached the pattern for you. two skein can make one scarf, or if you want it longer, just add another skein. Charmkey small fishnet yarn with metallic makes creating ruffles a breeze.
• 68% Acrylic 32%Nylon
• Super bulky weight, 50g=12m
• Hand wash, cold water, lay flat to dry. Imported.
• Knit gauge instst, size 6 needles: 19 sts and 26 rows = 4" (10.2cm). Other needle sizes can be used with similar results.
Care Instruction:
1.Hand wash only
2.Must be dry cleanable
3.Do not to iron
4.Can not be bleach
Charmkey Pom pom fishnet yarn color
Charmkey Pom pom fishnet yarn